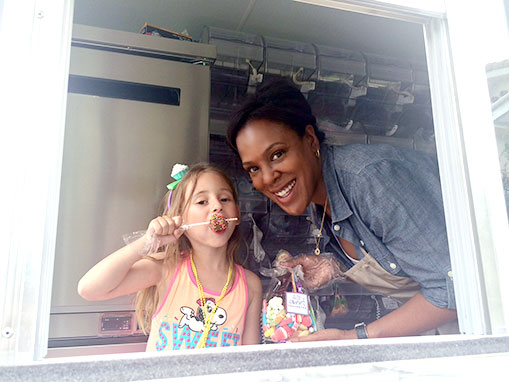 We hired Sweetness and Delight as a very special "party favor surprise", for our daughter and all of her friends. Our daughter Ayla was very specific with her 8th birthday party requests: it had to have crafts, carnival games, and CANDY! As the party was coming to a close, Ayla suddenly panicked, realizing that we had "forgotten" one very important detail – the goody bags for her guests! We assured her that it was all taken care of, and asked her to lead her friends to our driveway where Catrice's adorable candy store on wheels was waiting!
Ayla's eyes grew as wide as gumballs when she realized SHE was going to be handing out very special goody bags for her pals. We had already worked out a special "candy menu" complete with all of her favorite treats, along with special chocolate covered marshmallows on a stick to sweeten the deal. All of her friends squealed with delight as Ayla handed them their bags through the window. The bags even came with adorable personalized stickers that matched our candy themed party invite. It was a very sweet day, indeed and I would most definitely hire Sweetness and Delight again!
Amy Shelby
Executive Director, Social Media Marketing at Warner Bros.
---
Sweetness And Delight designed an exclusive and unique "candy buffet" for our daughter's 7th birthday "DISCO" Party that is STILL being talked about to this day! The set up was flawless and all our guests were amazed with the perfectly selected candy, the personalized bags and the ability to creatively weave in our DISCO theme! They provided personal attention to detail from the start to the finish of our party and we will continue to frequent their services, not only for birthdays but also for other special occasions, as the possibilities are endless! We wholeheartedly recommend Sweetness And Delight!
Reno, Tiffany and Miss Vaughan Ryan Anoa'I
Wrestler and Entertainment Executive
---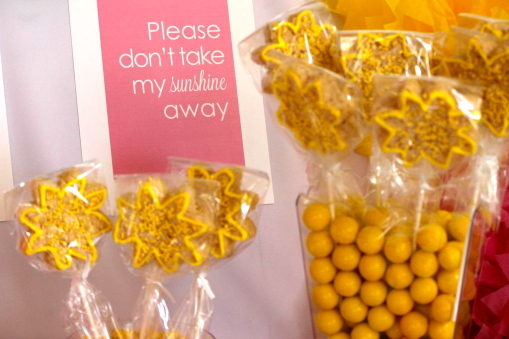 Working with Catrice was beyond awesome. The styling for my son's first birthday far exceeded my expectations. Catrice carried out my vision for the party in a way that will make me forever grateful for her help. Everything was perfect – customized favors, decorations, and amazing candy display. I can't tell you how many compliments I received that day and friends are still talking about it now, months later. I can't wait to work with Catrice again for the next special occasion in our family. Catrice and her team made one of the most important milestones in my son's life unforgettable. Thank you!!!
F. Chang
Attorney
---
Sweetness and Delight and Catrice were amazing! They took all the stress out of planning my sons' Angry Bird themed birthday party and created a beautiful sweetscape and decorations for the event. Catrice took the time to listen to what I was looking for and came up with great ideas to utilize the space in my house and work within my budget. All my guests were awed at the attention to detail and I was so happy with the outcome. I highly recommend Catrice for any event or party!
G. Lee
Attorney
---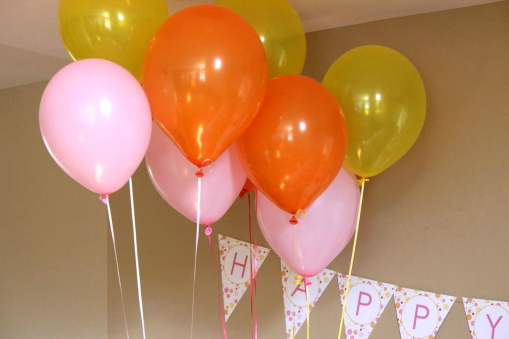 Catrice is absolutely wonderful… She is a great listener and a very calming influence. She absolutely captured my vision for my son's Baptism. My guests were thrilled with the presentation, not to mention that Catrice really knows her "sweets" as both adults and children delighted in the treats. My head was spinning with ideas and Catrice was able to take my different ideas and put them into a clear and complete vision. Once you see her work her magic, you will give her 100% trust and let go of the process. I am looking forward to Catrice styling my next event. She is worth every penny!
C. Verano
Attorney