Valentine's Day is absolutely one of my favorite holidays. The candy, the flowers, the decorations – it's all so pretty! To get excited about celebrating this week I want to share some fun history about my favorite holiday and why it is so widely celebrated.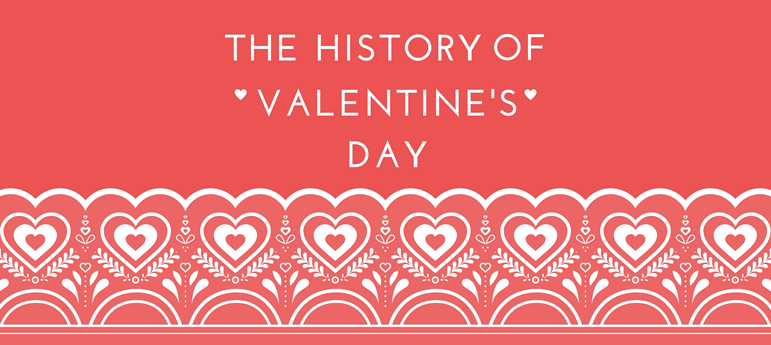 The romance and gift giving aspect evolved in the 14th Century.
Chaucer is credited with picking the date, February 14, because it was believed to be the day of mating for birds in France and England. He adopted the symbol of two birds on his poetry, and as time progressed, the image and idea caught on. By the 18th Century gift giving and exchanging delicate handmade cards (something I still love to do!) was common practice in England. This trend spread to the colonies and by 1840, the first commercially produced cards were shared.
Some of the real inspiration for the flair and décor of this holiday comes from the 'Mother of the American Valentine', Esther Howland. She created some of the first valentines with lace, delicate paper, ribbons, and beautiful imagery that would later inspire some of the cards we still use and love. Teaming up with friends and family, she grew an empire of the first female assembly line, creating opportunities for women, and of course, beautiful valentines for men and women to share.
The industrial revolution brought on mass-produced cards and gifts and today we still have the option of buying valentine cards and gifts in bulk or crafting our own versions. Candy grams, jewelry, and pets are just some non traditional gift ideas to celebrate. Despite additional gifts and the use of e-cards and texts, about 1 billion Valentine's Day cards are sent each year, keeping the tradition alive and of course, many happy families and friends connected. Remember: a handmade card or gift is always a great way to show your friends and family how much you love them.
What I love most
What I love most about this day is that it is a nice opportunity to show and tell anyone you care about how much they mean to you. It's something we should do all the time, but Valentine's Day is a great reminder to appreciate those you care about.
What is your favorite way to share the love on Valentine's Day? Please share in the comments below or tweet them to me @SwtnessnDelight.