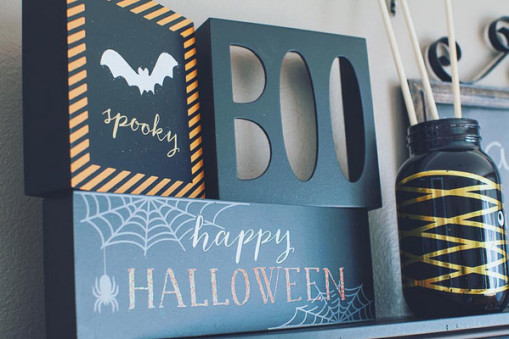 Halloween will be here before we know it! Are you ready? Costumes are planned and the candy routes are organized, now all that's left is the most important part: the treats! If you're anything like me, standing out with the décor is very important so why not throw something new into the mix this year? Here are some very creepy, but tasty options to add a little spook to the night.
Mummy-tastic Hands
Perfect party favors to spook and delight your guests. Give them out or display them around candy buckets and other snacks and wait for someone to get spooked. These spooky hands are easy to make and a great option for party favors or extra special trick-or-treat bags.
Spooky Pretzel Fingers
Get ready for screams of fear and delight for these spooky pretzel fingers! One of our favorite treats is a good chocolate-covered pretzel rod! We've used glitter and colored frosting before, but to give them an extra spooktastic feel, dip them in white chocolate (or even yogurt) and add a green pumpkin seed for a finger-nail. You'll be scared to eat them, but they'll taste so good!
Crunchy Donut Eyeballs
Forget the gumball eyes, we think the added crunch of these donut eyes will be an even better party favor. We'll never look at donut holes the same way again! You can serve them on a plate or put several in clear baggies to hand out. They will be sure to be an eye-opening experience for any unsuspecting trick-or-treater.
Monster Mouths
Give them something to scream about with these spooky (yet healthy) monster mouths. Granny smith apples, peanut butter, and marshmallows, oh my! Line them up to greet trick-or-treaters at the door and even hide a couple in the fridge to spook a sneaky little late-night snacker.
Mystery Bones
For an extra-creepy snack, these mystery bones are the perfect answer. Not only do they look real, they also are a quick fix to solve any last-minute decorating needs. Mini-pretzels, marshmallows, and white chocolate will transform into any grave robbers' nightmare. Just make sure the graveyard stays full or you'll have some angry little ghosts and goblins coming back!
Ghostly Apples
Instead of the usual caramel apples, give them a scare with these goulish apple ghosts! You can add faces and have some edible frosting pens on-hand to write names on the back. Just be prepared for them to disappear quickly!
Fake Blood Bags
Forget red food coloring and the mess! These blood bags are a great addition to any spooky candy combo because they look so real! An added spook option: tear one open and let a little of the "blood" get on your costume.
Spider Cake Pops
It wouldn't be Halloween without any creepy, crawly spiders! Unleash them at the beginning of the night and watch them scare and delight people. You can also use Oreos and add colored candies to make them seem a little creepier.
For some more Halloween inspiration check out what we have found on Pinterest or see some fun decorating ideas on Instagram.
Happy trick-or-treating!